Flow Cytometry is a technology that rapidly analyzes single cells as they flow past a laser which enables the identification and measurement of their characteristic biomarkers from a group of mixed cell populations. ImmunitasBio utilizes the Beckman Coulter CytoFlex LX Flow Cytometry platform as part of our immunoassay facilities.
ImmunitasBio typically uses its Flow Cytometry platform for services involving immunogenicity, cell-based assays, intricate immunophenotyping, oncological, and disease-associated biomarker analysis and monitoring. We also leverage this platform for DNA and RNA analysis, receptor & target occupancy assays, intracellular and surface marker analysis and/or phenotyping, whole cell, and receptor binding assays, and in vitro toxicology, antibody screening, and rare event analysis, such as in dendritic cells and stem/progenitor cells.
How Flow Cytometry Works: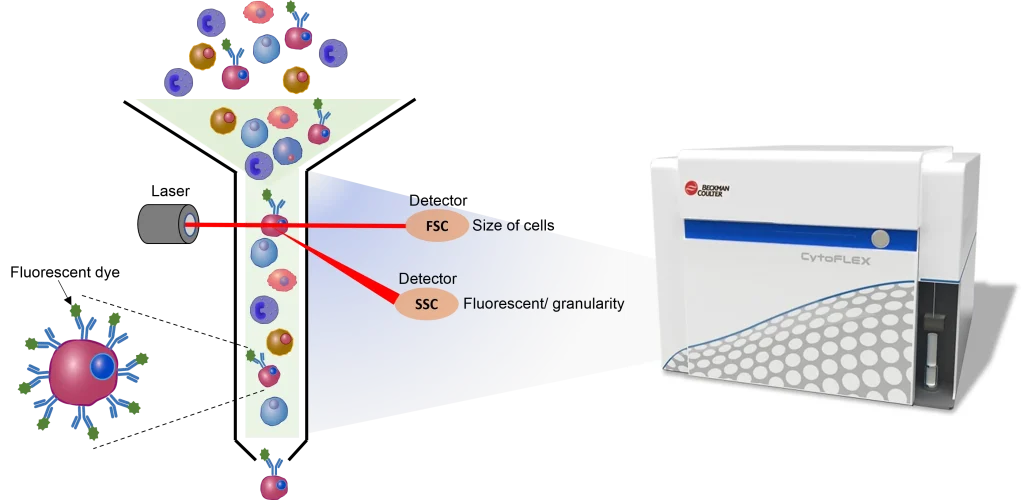 Flow Cytometry provides a well-established method to identify cells in solution and is most commonly used for evaluating peripheral blood, bone marrow, and other body fluids. It measures cell size, granularity, DNA, gene expression, surface markers/receptors, and intracellular proteins. A suspension of single, unclamped cells is run one at a time past one or more laser beams where each cell scatters visible light based on its unique characteristics and can then be counted or further characterized.